Flex Sülearvutikeskus

E-Commerce
Raigo Lilleberg (Kreit)
UI Design, UX Strategy, Information Architecture, User Flow & Front-End Development
With: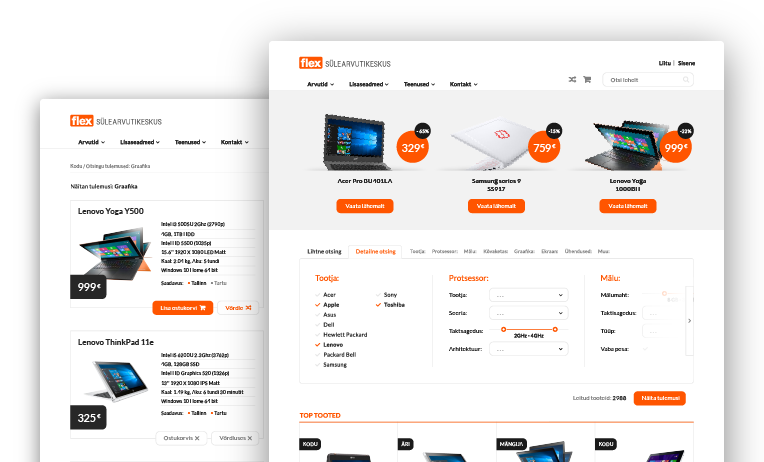 Story
Client
Flex Sülearvutikeskus is one the oldest and biggest, online laptop retailer in Estonia, that also provides accessories and technical support service.
Goal
Website design that has variety of products, product specs, e-commerce online shopping and delivery opportunities.
Partners
Karotte - an experienced software and web applications development studio. Fenomen, one of the strongest Drupal development agencies in Estonia.
Process
Approached with a task to help out, to continue the re-design process with a goal in mind to design a clear, simple usability and experience strategy and a strong, accessible visual communication.
After quick competition analysis on the existing market we went through the existing content strategy and made improvements where needed. While discovered pros and cons in the communication and usability patterns we got a better overview of the scope of the project.
We kept the overall layout structure standard and emphasized the products and accessibility to search or find products. We gave more thought to the product pages' information structure and shopping experience.
As the company had some visual language elements available like the brand's orange color, the logo and some overall color pairings, we decided to use and emphasize the existing solutions instead of bringing in new ones.
After some iterations we moved forward with a clean, content-focused and easily accessible visual solution. Leaving the background and secondary content light, we contrasted it with imagery and the brand's primary orange color.
Final thoughts
The beginning of the project proved again how important the preparation work is. Why understanding one's users and knowing the competition's approach can help a lot to design a useful and purposeful product.
The essential design process's pace was reasonable and solutions delivered as planned at the beginning of the project.