Traffel

Web
Raigo Lilleberg (Kreit)
UI Design & UX Strategy
With: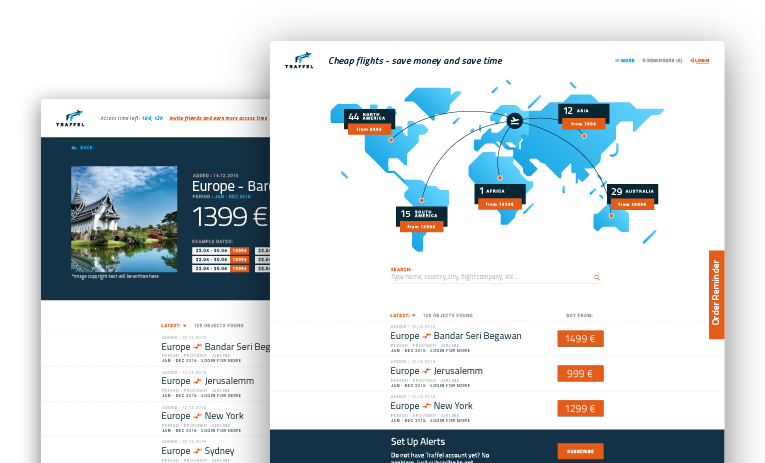 Story
Client
Traffel is an Estonian startup, that shares information about the largest collection of carefully selected, long-haul flights originating in Europe.
Goal
Website design that has variety of informative, descriptive and interactive real-time content.
Partner
DUX is a flexible, multi-lingual, at-least-once-a-year-award-winning design studio founded by two handsomely modest guys who design interfaces.
Process
Approached with the task to design visuals for the site's desktop and mobile versions as well as design an e-mail newsletter template. As there were not many limitations given from the client's side, we had an opportunity to go with non-mainstream solutions.
The original brand colors where slightly changed to give more contrast for the content, help to differentiate priorities and make it quicker for a user to navigate the content.
As there were parts with dense text content the font Titillium fit in perfectly.
Its multiple weights can improve the contrast between texts and its slightly rounded edges give a bit of human touch to an overall communication and feel while maintaining legibility.
The overall layout and visuals were kept simple to emphasize the most valuable information for the visitors, and make it instantly accessible.
I would emphasize the world map with live pricing data and ticket-like visual treatment for the listed deals.

Both solutions helped to grow conversion rate of the site.
Final thoughts
There is always a lesson to be learned from each project. With this project the most valuable lesson was the importance of preparation. "By failing to prepare, you are preparing to fail" – Benjamin Franklin