Apollo Cinema

Web Concept
Raigo Lilleberg (Kreit)
UI Design, UX Strategy, Information Architecture
& User Flow
With: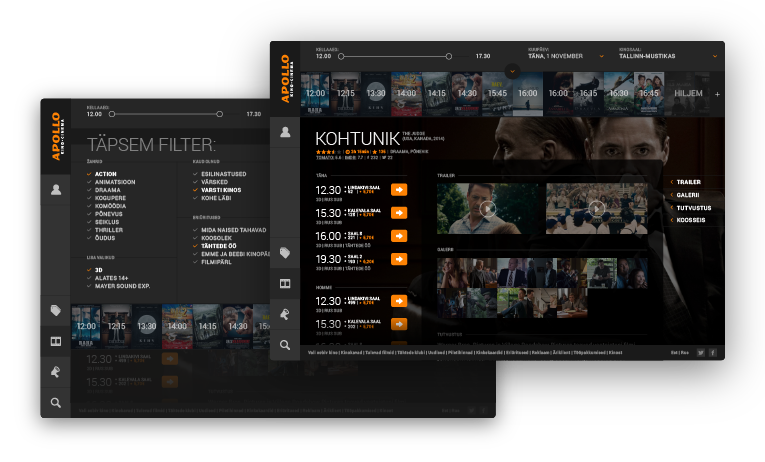 Story
Client
Apollo is one of the biggest online book store and cinema chain in Estonia, that has also been recognized with the "Best Commercial Project" prize at the Global Service Design Awards, in 2016.
Goal
Website design that has lots of informative and interactive content, a ticketing system for the platform users, and more.
Process
Approached with a task to design a distinguishable and as innovative as possible usability experience and strategy in a trendy, functional and aesthetically beautiful way.
We started out with the field search, by analyzing other local and foreign cinemas - how they function, what and how they communicate and what they offer – the limitations, opportunities and patterns to take into consideration.
Information we gathered from the field search and the company's profile description we received from the client gave us great input to start ideating about possible solutions.
The company's brand has already a strong visual language presence among their users and we decided to keep it that way.
We chose dark approach for an overall visual layout and contrasted it with the brand's orange color. Due to dense copy content we chose the Roboto font for clear communication that works especially well with small font size.
The amount of different type of content and an overall information density made us choose a fullpage approach for the layout. Amongst other things, this enabled to display visitors' more content, according to the device used, while visiting the site.
We chose a compressed left-side navigation to give even more prominent room for the primary content and used the top of the page for a movie schedule and an instant booking system, accompanied by a powerful filtering solution.
Final thoughts
Though the project was put on halt and never continued it was a fun and challenging design process which also broadened our knowledge about the world of cinema.

Would see the latter especially important for good design process. As well, deep knowledge improves the creator!